Kenapa semua yang berkaitan dengan Vampires sangat suck..?Yeah bila 1st time betul2 tengok movie pasal vampire adalah movie Newmoon..Bila perhatikan ciri-ciri vampires dengan lebih teliti terasa vampires nie amat teruk..Nak tahu kenapa?
Saya ada beberapa sebab dan antara sebab-sebabnya adalah :-
1)Rasa macam teruk betul bila vampires mempunyai kulit yang terlebih
putih dan sangat pucat..
2)Sangat tak paham kenapa nak menunjuk gigi mereka..?Ingat cantik sangat ke?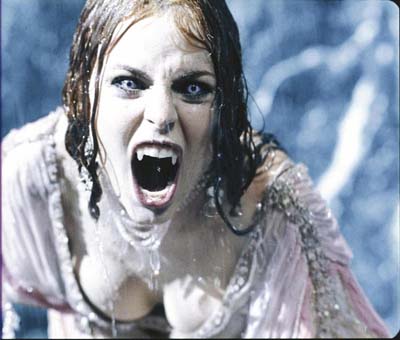 3)Mereka nie tergolong dalam kategori yang pelahap dan menjijikkan bila melihat mereka mengisap darah mangsa dengan terlalu gelojoh..euwww..!
4)It's SUCK apabila mereka terkena cahaya da matahari..Rasa sangat menyampah bila badan mereka berkilau2x..
5)Teruk apabila makanan vampires adalah HUMAN BLOOD..ish adakah patut..Jika golongan nie sukakan darah manusia,,kita patut bencikan mereka..!!!!!!!!!
Oleh itu, jika anda bencikan vampires, anda patot menonton movie ini...
1
2
3
_____________________________
"Vampires Suck" is a comedy about contemporary teen angst and romance movies. Becca, an anxious, non-vampire teen, is torn between two boys. Before she can choose, Becca must get around her controlling father, who embarrasses Becca by treating her like a child. Meanwhile, Becca's friends contend with their own romantic issues – all of which collide at the prom.
The Trailer:



I'm so excited waiting for this movie Priemer's ticket.. =)